Diddy Kong Racing DS, Rare's first DS title, while available tomorrow, has been shipped to retail stores today. Breaking the 9 year gap between ports that the Donkey Kong Country trilogy had on the Game Boy Advance by an extra year, this game takes place ten years after the "To Be Continued" that Diddy Kong Racing showed us. Wizpig, being a glutton for punishment, has decided to do the exact same events he did in the N64 version, save for some extras and omissions. For one, Banjo and Conker are absent in this game, instead being replaced by a paradoxical Tiny and Dixie Kong. Also absent are bananas, which are now being replaced with coins.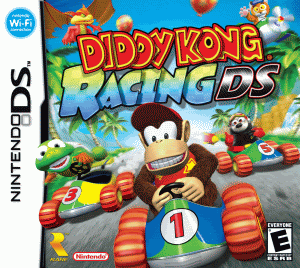 On the bright side, with a Wi-Fi connection with up to 6 players, custom decals, the option to make your custom race tracks, more playable characters, 4 new levels and mini-games, Diddy Kong Racing DS is definitely worth your cash.
As for a release outside the U.S., it's still a vague "Q1 2007″ release. But that's what importing's for.